BUSINESS
What to Do When You're Stuck in Business Overwhelm
Wondering what to do when you're stuck in overwhelm and can't figure out the next move? Yeah, it happens to everyone at some point, and to some of us more often than we'd like.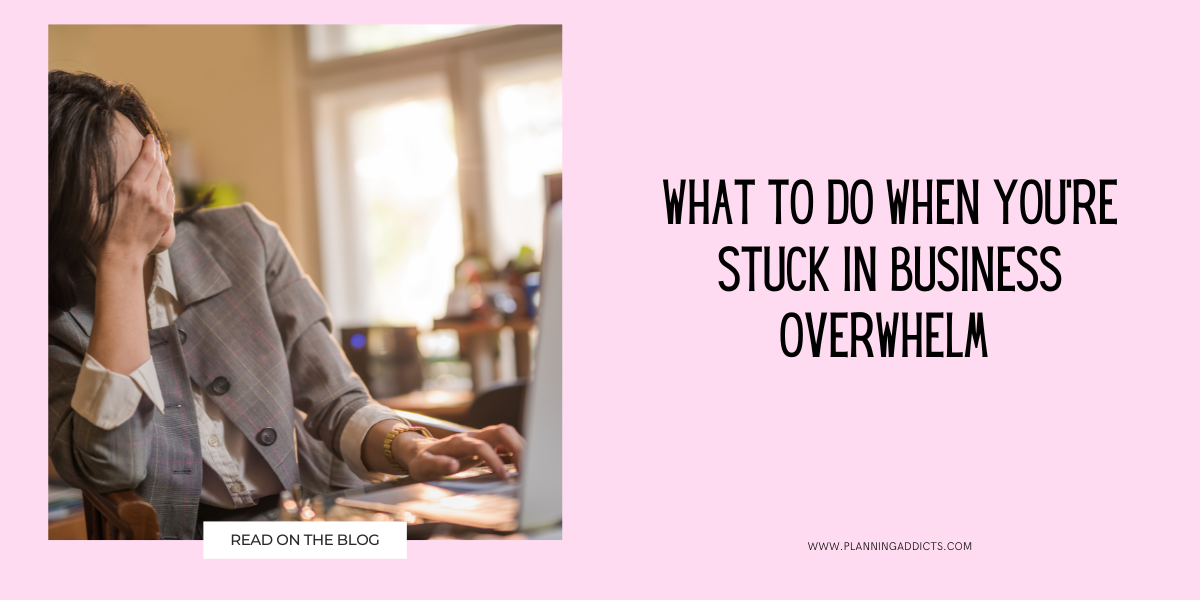 If you feel like a car whose engine won't turn over, yet you keep cranking the key in the ignition, then the steps outlined here can usually help.
Usually, this means you've hit a wall as a business owner. Moving in the opposite direction is probably the best idea to free up your mind and get the gears moving again.
This can feel like being a character in a video game who can't seem to climb over the barricade. To move ahead, you must find another way around. The thing is, you may have to step back in order to see the alternate options.
So how do you find a way around overwhelm?
Stop in your tracks.
When you're stuck working on a challenging task for a client, let them know you're taking care of it, but you need a few days. This puts their mind at ease and lets you take a break from the pressure of immediate problem-solving.
Then just set the problem aside.
Now, find something entirely different to do. Engaging another part of your brain can free up the neural pathways needed to do the first task. It can allow your brain to find the path around the sticking point of the problem.
Disconnect.
What should you do while taking your mental break? Well, anything, really. Maybe just go do something that has absolutely nothing to do with your business. The idea here is that you're mentally blocked and can't seem to find a workaround, so focusing your mind and body on something unrelated like reading a book, taking a walk, or even doing the dishes, can relax your brain enough to solve the problem when you go back to it.
Relieve stress.
If you weren't already stressed, you probably are just from the overwhelm of being stuck. Typically exercise or physical movement is a great way to relieve stress. You don't have to go run a marathon or take up all of the time in your day by running 5+ miles. It's much more reasonable to just do a little bit of cardio to thump out all of the anxiety and take your nervous system out of stress mode.
Engage your hands.
Another thing you can try is one of your favorite activities that engage your hands. Maybe you're a painter, crafter, or love writing. Do you like to garden or build things?
Anything that engages the parts of your brain that makes hand movement possible can help your brain relax in other stuck areas.
Using your hands is a great way to calm the mind and it will get you into a problem-solving mindset. This is ideal for when you're trying to work through a business-related issue. If you let your hands lead the way, you might actually figure out how to resolve the thing that's stressing you out.
Entrepreneurs Overwhelm Workbook
Enter your email below and you'll get immediate access to download the printable workbook.
When you sign up, you are also agreeing to get news and special offers from PlanningAddicts.com and our affiliates about 3-5 times per week.
You can unsubscribe anytime. For more details, review our Privacy Policy.
Download Here!
Give yourself the gift of Overwhelm Problem Solving. When you are in the middle of putting out a fire in your business, stop and answer the following questions about the situation. It can help you sort through which steps come first, how important this particular fire is to put out, and give yourself a break from the stress of overwhelm.
For each problem, write down what happened and how you handled it. Make the time to save your answers in a document and take that document home to work on as your business owner's homework if you need to. Then go deeper with the analysis.
This could also be turned into standard operating procedures for you and your team!
Ask yourself the following:
What happened that should have happened?
Who was responsible for what occurred?
Why did the mistake occur?
What did not happen that needed to?
What did you do to correct the situation?
How did the customer react?
Did you lose time while dealing with the situation? How much time?
Did you refund the customer or offer them something extra as payment for the mistake?
How likely is this customer to turn to you for repeat business?
What can you do differently, so that you can avoid this problem in the first place?
Now that you've taken the time to answer this about the businee overwhelm in this situation you're working on, what can you do to move on from it right now?