I've been researching and promoting digital planners for a bit now and wanted to expand on why I think they are a good idea to get into as a seller or creator.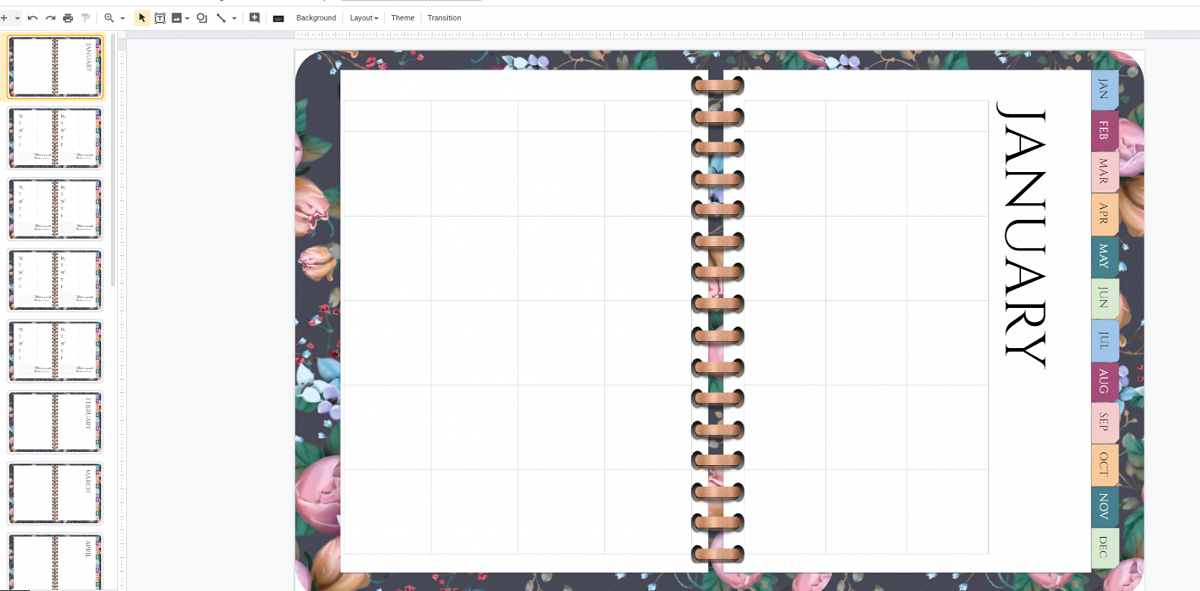 Why Use Digital Planners?
Now, I can only speak from my own personal experience, but I'm finding that I'm using my phone more and more. I really resisted the urge to use it so much and be completely dependent on one thing to manage my life, but it's happening. I'm far from the only one. 
As this shift has happened, I've noticed that I'm avoiding certain things that feel bulky or unnecessary like my bulky paper planner, a big wallet, and even my purse. I've never carried a big purse, either, so is this just me heading toward minimalism and rejecting complicated things in my life? Or, is it what the culture is like now?
Either way, using a digital planner that I can access on my phone makes sense to me. It's even better if I have the phone with a built in stylus like I had a few years ago. But, even without that, I can manage and see what I need right on my phone, along with the clock, the weather, facebook, my email...... well, you get the idea. 
There's also the fact that I can have more than one type of planner on the phone, like a budget, my bills, appointments for me and the kiddo, my meal planner and any host of other things. That means I don't need 14 paper planners to house all those things! They all fit virtually inside the app on my phone. 
Now, don't get me wrong. I love paper planners. Actually, I love paper! I have notebooks falling off my shelves that I've not used, or are partially used. But, they take up space and since I live in Tornado alley, there's always the chance I could lose them all during spring's crazy weather. 
But, How Does That Work?
Alright, I know some of you still don't understand how it all works, so let me try to explain. 
On your phone or a tablet, you can download an app that will house your new digital planners. 
Do you have an app on your device for other stuff? You know, like Facebook or your email? This will be a similar process - sort of. 
The app you choose will depend on your type of device. There are typically Apple or Android based devices. But, there's also the Amazon Fire tablets that may work. 
These apps need to be able to read a PDF type of file, AND, be able to annotate (write /make notes on) that PDF. I'll share some of the most recommended apps later. 
Apps to use: 
Amazon Fire - Xodo works here and on android devices

Ipads / Iphones - Goodnotes and Noteability seem to be the most popular. They both have a one time fee of less than $10. 
Androids: Xodo seems to be the most recommended and is free. 
There are more options listed in the training I recommend at the bottom of this post. 
After you get the app loaded to your device, you'll import your new planner file into that app. 
Then, you can open it (the file) and you'll see the pretty planner front page. 
As a side note - you can use a finger to write on your device, but it will be easier if you use a stylus like an Apple Pencil or the one I use, a Wacom Bamboo stylus. They both have a hard tip, rather than the soft tips that stylus' had years ago. I don't know all the info on the Apple Pencil, but I believe it only works with newer Ipads and iPhones. But, the Wacom stylus will work with anything, I believe. 

On that front page, there will be links to the other sections or pages inside your new digital planner. Sometimes those links are on tabs at the side or top of the page. But some of the planners I've seen have a different type of set up and their pages look more like a pretty photograph of someone's desk. 
Here's an example of the two styles I just talked about.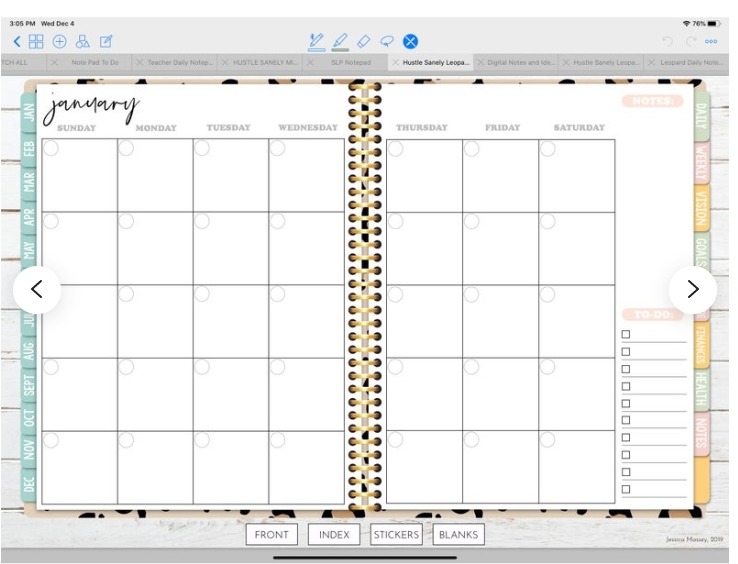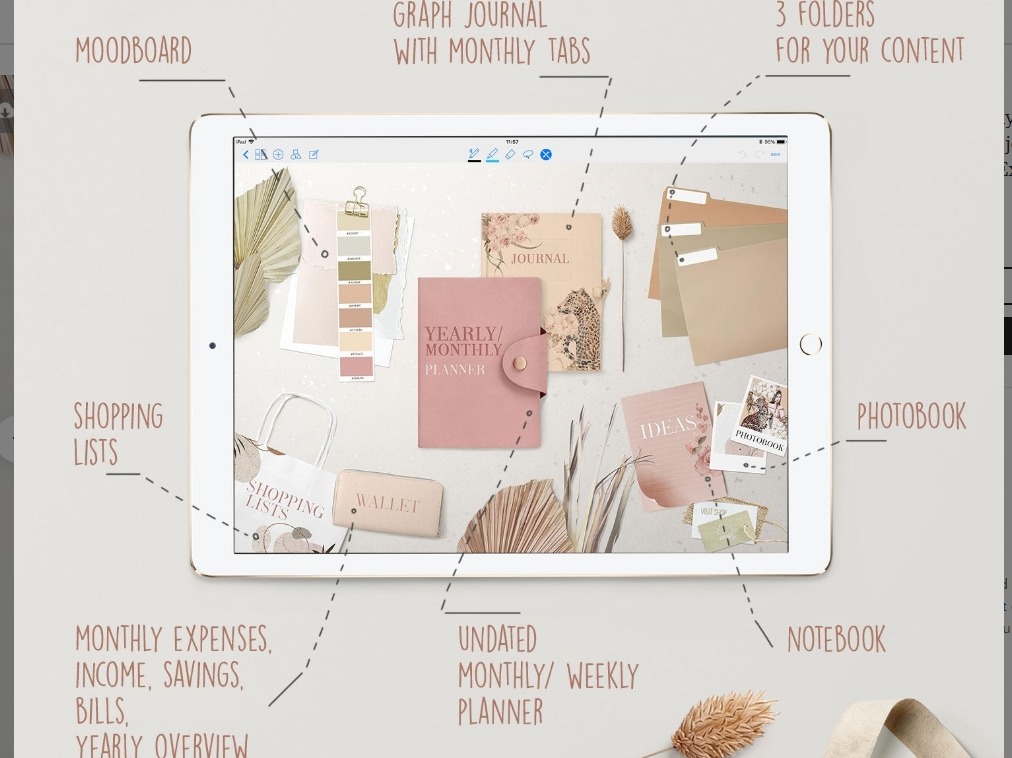 How Hard Is It To Create a Digital Planer?
Not much harder than creating a printable design. But..... 
The biggest difference is that there are links - and those links can't be added until you get the design done. The links have to be created in a specific way depending on which software you use. Each link goes to a specific page in the planner. 

Some digital planners have hundreds of links - from tabs on the side and from links within pages. 
For instance; Each tab on the side of my digital planner, pictured below, goes to the monthly calendar page. 
But, in some other digital planners, there would also be links on each calendar page to the weekly pages. So, week 1 would have a link to the page that shows a weekly layout for the first week of that month. Hope that makes sense.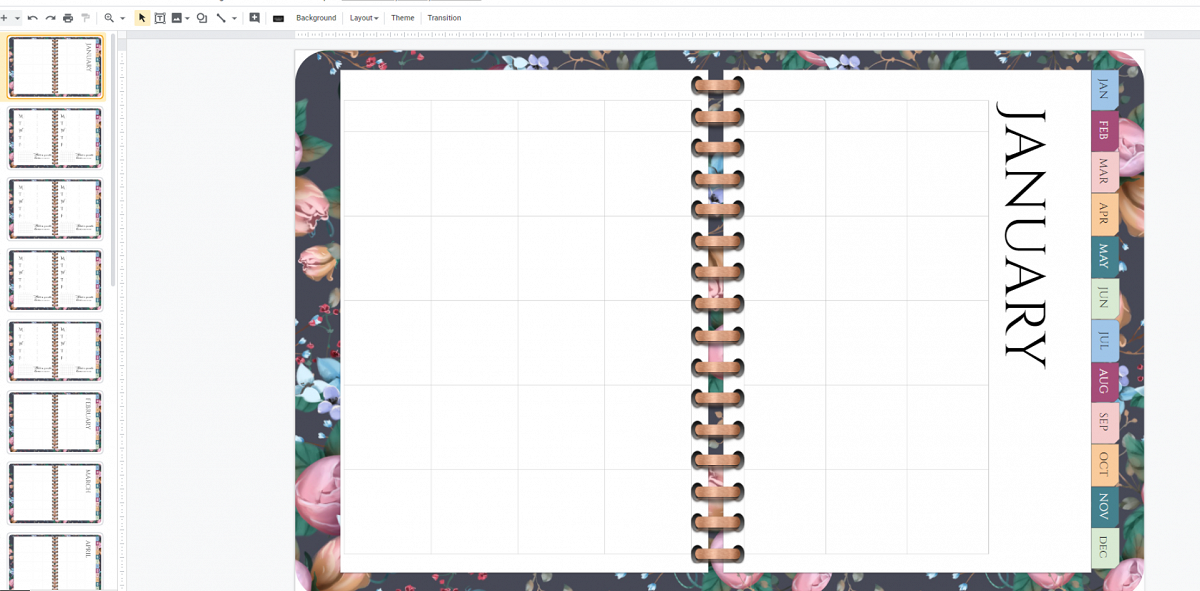 As you can see in some of those other examples above, there are links to sections of the planner like the budget or medical trackers. Those links could be placed strategically within the planner. It could get confusing when creating it, but I think it's very doable if you plan for it. 

I saw a comment from a creator that said she was drawing it all out before starting to actually create the pages and links. That might be good for someone who is a visual thinker. 
Where Do I Learn This Process? 
While I've been researching this for a while, I wasn't sure how to do a few specific tasks and how to put it all together. Now, I know because I took a course, and have adapted to using my software of choice, Google Slides. 
If you want to take the course too, you can do that here - Digital Planners Bonanza
There are some offers that will show up after you buy the main training. You don't need any of them in order to make this work for you. But, if you do grab them, I have included some bonuses of my own when you buy through my link. 
Bonus #1 - When you buy the main product training
You get my full planner in landscape, 2 page layout, as shown above, in powerpoint files, that you can edit and claim as your own. This is waiting for you in your download area on warrior plus when it is ready. 

Bonus #2 - When you buy the 2nd offer 
You get my full planner in vertical 1 page layout, in powerpoint files, that you can edit and claim as your own. This product is pending and will be added to your download area on warrior plus when it is ready. 

Bonus #3 - for the 3rd offer
You get a video training from me of how I created those digital planners using Google Slides (a free software)! This training is pending and will be added to your download area on warrior plus when it is ready. 



Hey, leave me a comment with what you think, and then share the post using one of the social icons below that.