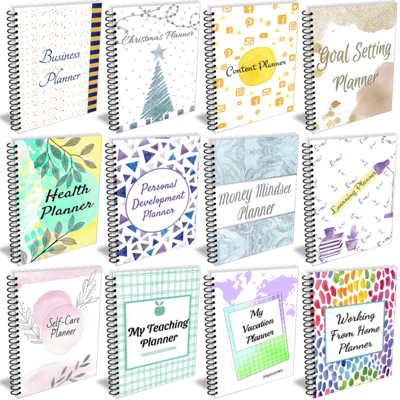 This bundle has 12 different sets of planner templates that can be mixed and matched to create unique planners. All templates are fully editable with PowerPoint files and ready to go as is with PDF files.
​They are sets of templates rather than full planners (except 1) so people can duplicate any pages they want, as much as they want. Or mix & match the pages. I prefer the flexibility of this as I know people might want to use the pages in different ways.
​The bundle has 435 pages of unique content. 
Plus the additional 12 A4 Covers & 12 6x9" KDP covers (up to 150 pages).
Each set of planner templates will come in black & white versions as well as in full color.
Plus buyers will get two sizes - A4 & 6x9" - as well as all the fonts I have used!
​
The Planner templates included are:
Business Planner
Christmas planner
Content planner
Goal setting planner
Health planner
Learning planner
Money mindset planner
Personal development planner 
Self-care planner
Teacher planner
Vacation planner
Working from home planner
​