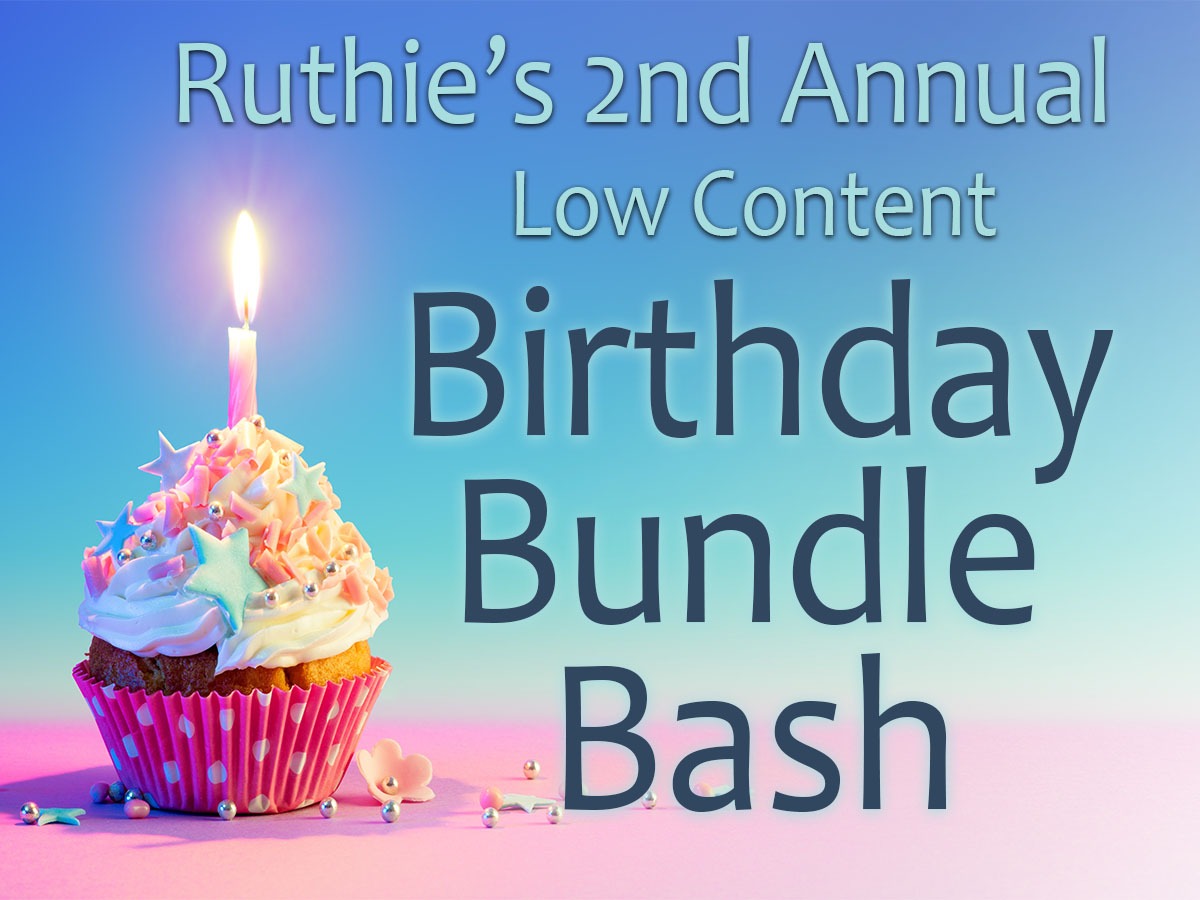 Ruthie's 2nd Annual Low Content Birthday Bundle Bash
Only $27 for $1476 in products and training's from 36 contributors! Are you ready for this epic list? 
Here's who and what is in this bundle. 

Share Your Brilliance - Discover Digital Planners Workshop value $97
Carlene Kelsey Web Solutions, LLC - 30 Done For You Social Media Images value $90
Planning Addicts - Roaring 20 Coloring Planner Pack value $27
Artsy Challenge - Gift Card value $47
Simply Couture Designs - Essential Life Planner Template value $37
The Planner Nerd - Kid's Summer Journal value $18.99
Buy Digital Designs - 1000 Stickers Cookie Style Girl's Names -- Mega Pack value $50
Blessed Mess - Life Improvement & PLR Store - Teen Life Journal & Binder value $17
Content Accelerators - Using Affinity Publisher for Low Content Books value $27
Color Monthly PLR - California Bucket List Coloring Pages value $53.50
A Cup of Zen LLC - Done-for-You Content Overcoming Challenges to Embrace Change value $47
PLR Beach - Sunflower Student Planner value $27
BookPublisherTools - Puzzle Bundle Summer 2020 value $27
Planner Creators PLR - Animal Mandala Adult Coloring Book Kit value $27
Fruitful Freelancing - Low-Content Brainstorm Book value $20
Printable Craze - How to Create Mockups for Printables value $35
Color My Journals - Budget Planner Templates value $27
Quick & Easy Creative Content - The Fabulous Floral Fun Template Pack with Covers value $27
Busy Bee Content - 4 DFY Printable Journals (Monthly/Weekly Undated) - includes Giraffe, Zebra, Cactus & Houseplant PLR Journals value $54
My Fair Ladies Printables Boutique - 126 Motivational Journaling and Planning Social Media Graphics - For Instagram, Facebook and Pinterest value $20
Simple Happiness Biz - Motivation Journals and Journal Templates value $37
PLR Creative Living Publishers - Digital Sticker Mega Pack value $47
PlannerPreneur - Daily Essential Digital Stickers value $25
Stephie The Happy Mom - 30 Health-Related Funny Sayings Coloring Pages value $17
PLR of The Month Club - Done-For-You Digital Planner & Lead Magnet Extravaganza! value $97
Dream to Paper - Adorable Garden Printable Planner For Planting value $17
Cherry-Ann Carew - How To Test Your Idea Before Creating A Product Or Service value $47
Light Worker PLR - "At Camp" Tarot / Oracle PLR & Printable Pack value $17
Lori Winslow Online - Autumn Recipe Planner value $27
Fearless Content - Color Me Profitable value $37
Christiane Jechoux - Organize Your Home - Freezer & Pantry Printable Binder Inventory Sheets value $20
Visual Tweaks - Fast Track Marketing with Video Workshop value $97
The Happy Journals PLR Club - 5 Crafty Creations Packs + a $15 Coupon value $65
Publish For Prosperity - Happiness is a Choice Report and Planner Pack value $37
Beautiful Planners and Journals - 30 Day Gratitude Journal with covers value $47
Zen PLR - Beautiful Butterflies Journal Templates PLR Pack value $67
I Am Affirmation - My Self Love Journal value $17
Strategic PLR - DFY Cute Flower Pots Coloring Kit value $97
Overwhelmed yet?
One of the things Ruthie has planned is a couple of video chats between me, Ruthie and Melody (from plrofthemonthclub.com) to discuss how we would use some of the products from this bundle. 
You'll notice there's a mix of trainings and even types of planners. There are both digital and printable. My product even includes both! 
Alrighty, go get it already. (click the link below)

Happy Birthday To Us All! 
-----------------------------------------------
Jenn
www.planningaddicts.com