There are more business models out there than Kim K has Instagram followers. But one of the OGs that's still standing strong is selling private label rights (PLR).
Now, I know what you're thinking - "Is this thing still relevant in 2023?" Well, duh! Online entrepreneurs need content like Chandler Bing needs sarcasm. So, the answer is a big, fat "yes"!
But, as with anything in life, things change. That's why it's important to keep up with the latest trends and best practices for selling your PLR. And lucky for you, I've got you covered with a guide that'll have you selling like hotcakes to other internet marketers and professionals.
We'll dish on everything from where to sell your content to how to keep your customers coming back for more. So, sit back, grab a coffee, and let's dive into the updated guide to selling PLR in 2023 and beyond!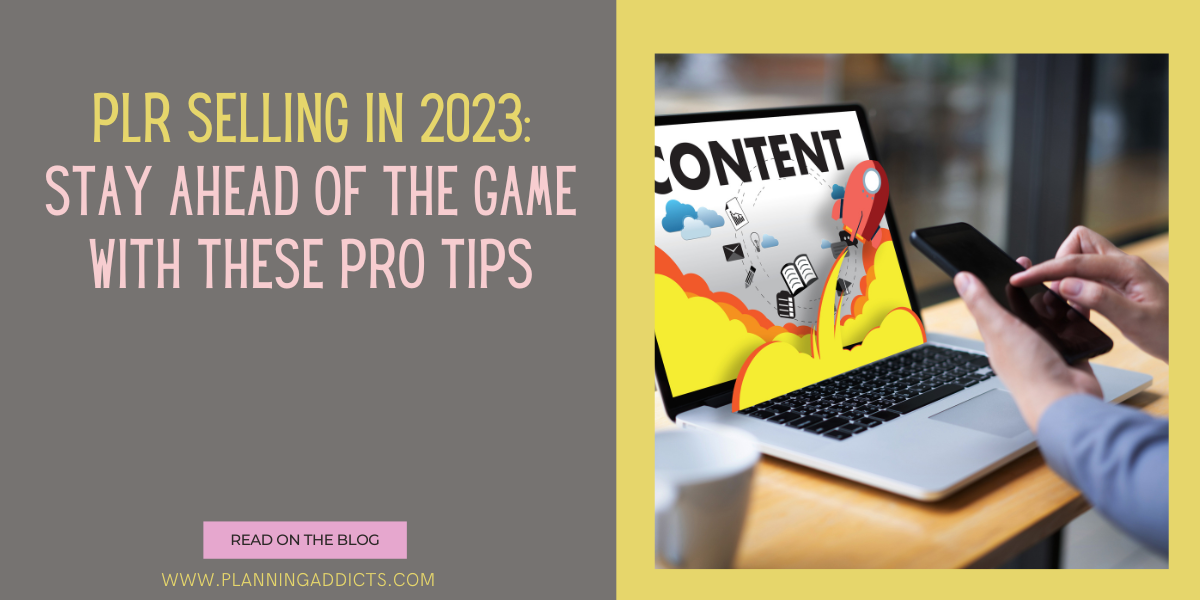 The Best Platforms to Distribute and Sell Your PLR
we're getting into the nitty-gritty of PLR sales now. Let's talk platforms, baby! When it comes to selling your PLR content, you've got options out the wazoo. But don't get too excited and start listing your stuff on every site under the sun - that's a surefire way to tank your sales.
If you're doing a big PLR launch and want to recruit affiliates to help you sell, it's best to stick with one platform. That way, you can show off your impressive sales numbers and conversion rates all in one place. Spread your stuff too thin and you'll end up with sad little sales numbers that make your PLR look like a flop.
When it comes to listings, you can sell directly to your audience or use a third-party platform. These days, a lot of PLR vendors are opting to sell straight from their own website to avoid fees and commissions. You'll need a platform built into your site to do this, and most sellers are using tools like AMember or Thrivecart to get the job done.
But hey, if you do decide to go with a third-party platform, JVZoo and Warrior Plus are popular choices. They come with a built-in customer base and affiliate network, making them great for big content launches or contests. 

Finding Popular PLR Topics That Have Profit Potential

So, you're interested in finding popular PLR topics with profit potential, huh? Well, you've come to the right place! Let's dive in and see what we can uncover.
First things first, you need to stay up to date with the latest trends. What was hot last year might not be so popular anymore. It's like trying to wear a fanny pack in 2023 - not a good look!
Now, not every topic is a winner when it comes to PLR content. You gotta make sure there's a market for it. If only three people in the world care about grooming long-haired chihuahuas, then it's not worth your time creating an entire PLR pack on the subject.
So, how do you find those profitable topics? Well, use your noggin, my friend! Think about what's always popular - like the "make money online" and "weight loss" niches. People will always be interested in those, no matter what year it is.
But don't stop there! There are always subtopics within those niches that gain traction at different times. Keep an eye out for strategic changes, like SEO updates or new technologies. And don't forget to browse magazines for inspiration - Women's World Weekly is a goldmine for weight loss topics!
Here are some titles on the covers that explain it perfectly:
85 LBS Slimmer at Age 80 (weight loss over a certain age)
Drop 2 LBS a Day (fast weight loss)
No Work Weight Loss (easy weight loss)
The Cozy Carb That Burns Fat Fast (fast weight loss)
Meno-Belly Going, Going, Gone (weight loss over a certain age and in a problem area)
Drop 11 LBS in 3 Days (fast weight loss)
She Lost Her Belly at Age 68 (weight loss over a certain age and in a problem area)
So, if you want to know what's buzzing in the world of social media, grab your phone and start scrolling through those apps and sites! Check out the hashtags, viral videos, and those groups where people are chatting up a storm.
And don't forget about those online forums, too! They're like the secret hideout of internet discussion. You can see what people are really passionate about, what they're talking about, and what's got them all fired up. Who knew the internet was so full of drama?
Take for instance the good old survival forums. If you type "survival forums preparedness" into Google, you'll find yourself on SurvivalMonkey.com. Look for the sections with the most chatter and see which threads are the most popular.
One thread called "Self Reliance as the Path to Survival and Saving Money" has over 70k views and 83 replies. It's all about small space survival, so there's a topic idea for you! See how easy that was?
As you start selling PLR, you'll start to understand what your customers are really looking for. The hot topics include self-help, weight loss, fitness, health problems, anti-aging, relationships, pets, survival, and the list goes on.
And if you want to be a real pro, check out the bestseller lists on third-party platforms and keep an eye on what other experienced vendors are releasing. But let's be clear here: copying other people's ideas is not cool. Don't be that scammy vendor. Instead, be innovative, and make sure you're serving your audience in the best way possible.
Current PLR Media Formats Gaining Steam
Private label rights content has come a long way, baby! It all started with simple text – articles and eBooks – but now it's expanding into different types of written content, from email autoresponders to social media posts. Vendors are even packing up full bundles that include website code and banner ads.
But wait, there's more! Video content is the new kid on the block, and it's gaining popularity faster than a viral TikTok dance. Younger generations prefer to watch instead of read, and with YouTube being the second largest search engine, it's no wonder marketers want in on the action. Short-form videos are all the rage, and you can even extract the transcript to use as written content – talk about a win-win!
But that's not all, folks! Audiobooks are the new hotness, too. People love to listen while they multitask, and it's a great way to consume important information. 
And don't forget the power of images. Ecover images and banners are old news – now it's all about informative infographics and social quote posters that grab attention on social media.
Considerations to Make Before Entering Into PLR Partnerships

Before you start teaming up with other folks in the biz, there are a few things you should consider. Sure, some of these people may look like big earners, but watch out - they might have earned that dough by being slimy scammers who'll ruin your reputation faster than you can say "private label rights."
Of course, not everyone out there is a shady character. There are plenty of ethical vendors who want to team up with you and create something awesome. But you have to be careful about who you trust.
When you partner up with someone, you're putting your reputation on the line. If they've got a bad rep, people will assume you're just as sketchy. And if they're not pulling their weight, you'll be stuck picking up the slack. No one wants that!
So before you agree to any partnerships, do your research. Join some groups, shoot some private messages, and find out what these people are really like. And if you do decide to team up, make sure they're delivering the goods consistently.
Now, we're not saying you can't ever partner up with anyone. Sometimes, it can be a great way to bring something to the table that you couldn't do on your own. 
An Update on Choosing and Wording the Rights and Usage to Your PLR
We know you're excited to launch your PLR, but before you do, let's dive into the nitty-gritty of the rights and usage.
First of all, you need to be careful with the wording you use. No matter how ironclad your license is, there are always going to be those sneaky snakes who purchase and resell your PLR without your permission. When this happens, don't panic - just stay aware, contact the platform to see if they can help, and send their domain registrar and host a DMCA to take down the website.
Now, let's talk about what your buyers can and can't do with your content. I like to think of PLR content in this way...
At the grocery store you can choose from several brands of corn, right? 
Chances are each can came from one manufacturing plant. 
That plant fills the cans of corn. But, maybe each brand asks the plant to create a slightly unique recipe, and for sure they ask to have their own branding label put on the can.
Then, each brand sells its can of corn with slight variances and at a price point, they think is best. They only sell it to the people who will eat it. They aren't selling it to another business that will brand it as their own. 
PLR is similar. 
At your store (or on Etsy, or any number of other websites), you offer your customers a product - let's say a planner. (the grocery store) 
You and a bunch of other stores bought that planner from a PLR seller. (the manufacturing plan)
But, you and all those other stores put your own label on it or changed the colors or fonts to match your branding. (brands) You and the other brands are not selling to another business that can edit and rebrand. You are selling to the person who will directly be using the planner. 
Private label rights allow your buyers to use the content on their blog, as a lead magnet, as an info product, as social media posts, or to create a sellable product.  But they can't sell that same content and include Private Label Rights. 
If you want to give your buyers the option to sell your content to others and include PLR, you can offer them master resell rights. But be warned - this can dilute the value of your content. Most PLR vendors don't offer to resell rights, but if you're feeling adventurous, you can add a second buy button on your sales page for those who want to take the risk.
Now, here's the kicker - some third-party platforms might not have the right license options for you. Take Warrior Plus, for example. They only offer extended or personal use rights, neither of which are ideal for PLR sellers. If you're in this boat, make sure you choose personal use rights and add a note explaining your license specifically.
In the end, the PLR industry is a place where you can show off your creativity and innovation as a content developer. So go ahead, set yourself apart from the pack, and attract marketers who need top-quality information for their website. Just make sure you have the rights and usage sorted out first, or else you might be in for a wild ride!
---
For more information about growing your digital business, visit the blog at planningaddicts.com.

To find more content with private label rights that you can use as your own, visit our Products page.