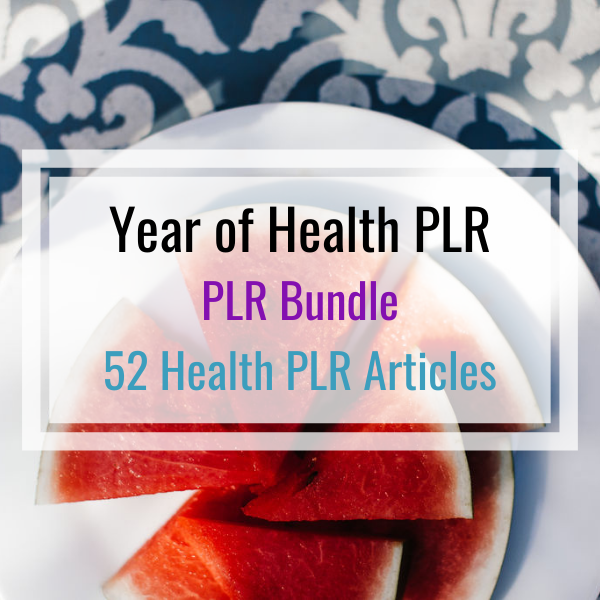 $19 for a Year of Content from Health & Wellness PLR.com
Starts: 11/27/2020 at 10:00am EST
Ends: 12/1/2020 at 11:59pm EST
Front End: $19.00 ($79 value)
A Year of Health & Wellness PLR - 52 articles, journal prompts, journal, cover, printables, and more bonuses. All new content! 
The Year of Health and Wellness PLR bundle includes 52 weeks of new content, offering a new blog post for every day of the week. The content covers a wide range of niches, including:
Journaling
Self-Help
Holistic and alternative Health
Diet
Fitness
Lifestyle
... and many more! 
The bundle comes with:
52 Articles
52 Journal Prompts
Editable Journal (Canva)
Editable Canva Cover
10+ Printables and Graphics
Images
*Bonus: Free access to the Year of Journaling bundle from last year 
The articles include:
1. 6 Ways to Have a Healthy New Year
2. The Best 6 Healing Herbs and Spices
3. Do You Have Quarantine Fatigue?
4. Cleaning for the Beginning of the Year
5. How to Start a Happiness Journal
6. New Ways to Deal with Heightened Anxiety
7. To-Do List for Stressful Days
8. Tips for Dealing with Your Negative Feelings (in a healthy way)
9. The Top Lists to Add to Your Planner
10. The Benefits of Journaling for Personal Growth
11. Tips for Time-Batching Your Life
12. What is Guided Hypnosis?
13. Why You Need to List Your Most Important Tasks
14. Why Habits are Built One at a Time
15. How to Reduce Screen Fatigue
16. Benefits of Going Organic
17. How to Improve Your Work-Life Balance
18. 3 Things You Are Doing Wrong with Your Bran Dump
19. What Does it Mean to Live Sustainably?
20. How to Use EFT to Your Advantage
21. Characteristics of Highly Sensitive People
22. Using Visualization to Reach Your Goals
23. What is Mental Fitness?
24. How to Gain Momentum in Life
25. Benefits of Revisiting Your Old Journals
26. Understanding the Wheel of Life
27. Natural Health Trends: Acerola
28. The 7 Dimensions of Wellness
29. Everything You Wanted to Know About Oat Milk
30. Cut Back on Sugar Without Feeling Deprived
31. Protect Your Hair and Skin During and After Workouts
32. Why You Need an Affirmation Log
33. What You Need for a Healthy Scalp
34. Different Ways to Use Your Winter Produce
35. Why You Should Sign Up for a CSA
36. 7 Ways to Stay Active in Cold Weather
37. Easy Ways to Get More Vitamin C
38. Keep Your Home Organized Year-Round
39. Tips for Getting Out of a Creative Slump
40. Quick and Healthy Breakfast Ideas
41. What are the Signs of Allergic Rhinitis?
42. Don't Underestimate These Healthy Ingredients
43. Common Mistakes You Are Making in Your Sleep Routine
44. Why Your Energy Drops in the Afternoon
45. Do You Need to Detox After the Holidays?
46. Try These Natural Air Fresheners
47. 6 Simple Ways to Use Collagen
48. Surprising Causes of Bloating
49. Improve Your Health with the Law of Attraction
50. Why Taking a Pause Helps with Emotional Eating
51. Organizing for the End of the Year
52. How to Set Realistic New Years' Resolutions

One-Time Offer - $497 ($5,657 value)
Health & Wellness PLR Vault - Access to 334 products from the Health&Wellness PLR store- includes everything in the store now, plus over 100 products that have been retired. *Does not include products to be released in the future.